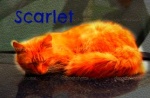 » Name:
Scarlet
» Sex:
Female
» Age:
11 Moons ~ Aged a bit
» Appearance:
Deep orange, almost red, poofy fur, and an especially fluffy tail. Startlingly bright green eyes.
» Personality:
A little deranged and mental... (Or a lot). She's often rude, mean and very unfriendly.
» Clan and Rank:
loner
» History:
As kits, Scarlet, Harsh and their sister, Wisp, were very close. They
always went everywhere together and almost never separated. But one
rainy day, out in the forest they came face to face with a badger,
coming straight for them. "Run!" Scarlet squealed. Although Harsh was
only 5 moons at the time, he was the fastest of the three and easily
outran his sisters. Scarlet though was close behind him and Wisp was far
behind. There were many logs and pebbles on the ground and their sister
tripped and fell. She called out for them as the Badger caught up with
her and the two could hear her yowls and wails but continued running,
despite her distress.
Almost two days later, as Harsh and Willow were
still grieving, a terrible earthquake hit the forest, Everything was
trembling, rocks were falling, and trees were tumbling all around them.
The little den they were in was closed off at the entrance with rocks,
forcing the out of their little home. Their Mother and Father, Jag and
Rose were pushing them, telling them to go as far away as possible, when
a crack slip between them four. Harsh was on one side, Their mother and
father were one, and Scarlet, who was just the same age as Harsh, was
on another. They were splits between them all, and it was opening,
impossible to jump. A large tree was just above their mother and father,
and it uprooted from the ground at the shaking force. It fell down and
down, and their mother let out one more blood-curdling scream, before
the tree crushed them both. Blood splattered on Harsh's muzzle, and they
was scarred forever.
Scarlet desperately tried to find her brother,
but couldn't find a way to get over the chasm. Her nights were
constantly full of nightmares and visitations from Wisp. She quickly
grew angry and impatient with other cats and very rarely got a good
night's sleep.
» Other:
Harsh is Whispers char, and Scarlet's brother